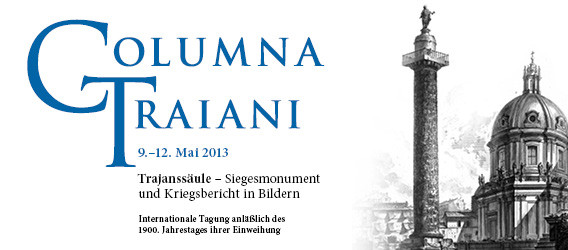 Columna Traiani — Trajan's Column: A Victory Monument and War Report in Pictures. International Conference Marking the 1900th Anniversary of its Dedication
Vienna, May 9-12, 2013
The dedication of Trajan's Column took place on May 12, A.D. 113, a date that is attested by the Fasti Ostienses. It was the crowning adornment of Trajan's Forum, which had been completed just over a year prior to this. Nearly seven years had passed since the victory over the Dacians and their king, Decebalus, which the column commemorates.
The 1900th anniversary of the dedication presents itself as an outstanding opportunity to organise an international conference thematically encompassing both this exceptional triumphal monument and Trajan's two campaigns against the Dacians, which are depicted on the spiral frieze winding around the column.
The objective of the conference is threefold: Firstly, existing scholarship is to be summarized and older lines of research reviewed. Secondly, new perspectives are to be developed. Finally, attention shall be devoted to reception history in light of the fact that one of the most prominent imitations of Trajan's Column is located in Vienna, where it is part of early 18th century Karlskirche.
In addition to this, the event is intended to give insights into a Vienna-based research project dealing with the rediscovery in the years 1803-1805 of Sarmizegetusa Regia, the political and religious centre of the Dacian empire destroyed by Trajan in A.D. 106 (FWF: P23975-G21).
The excavation history will be retraced and recent results from fieldwork being conducted at this eminently important site by archaeologists from Cluj-Napoca will be presented.
Columna Traiani - Trajanssäule
Department of Ancient History and Antiquity Studies,
Papyrology and Epigraphy
University of Vienna
Universitätsring 1
1010 Wien
T: +43-1-4277-40501
E-Mail